On the desert road
Leaving San Francisco has been incredibly difficult. One month without cycling, sleeping in a proper bed, a nice city, incredible hosts, a kitchen, beers… We had no valid reason to go back cycling, camping and eating our daily plain white rice. Motivation wasn't there and luck neither : second day, the Shimano crankset of the 4 years old bike cut in half. An hour to hitchike to Santa Cruz then we have to visit 5 bicycle stores to find the replacement part. Every shop tells me they never saw that before.
After that we were looking for some motivation, something challenging to forget San Francisco's easy life. The Highway 1 along the coast is a nice ride, but it wasn't enough. We decide to try the polyphasic sleep without really knowing how it works. We both had a vague idea of the thing, so why not cycle all day and night with small naps here and there ? Sounds like a really stupid idea, let's do it ! First break at 8pm, we don't even take time to put up the tent of inflate a mattress and we sleep on the floor before cycling again. We discover that the road is climbing. We are around Big Sur. Hills are never fun during day light, but when it's nightime and you are exhausted, it's quite unbearable. Second break at 1am, time to meet an alien, a guy from Alabama working from north to south USA, no bag, during the night, alone. We said Forrest Gump ?
Third break at 5am, day time. This time we opt for a bit of comfort with the tent and sleep a couple of hours. We are zombies when we wake up. We just cycled 40 miles during the night… great start.
An hour later on a road finally flat we meet 2 french couples including one cycling (tricycles) with their Rottweiler in a trailer. One day of cycling where we have met more cyclists than the rest of our trip. Nevertheless we decide to keep going with our little experience and start a new nap at 8pm after Cayucos. We wake up at 6am the next day ! Our healed brains then decide to end all this.
En route for Las Vegas, you can choose between the Mojave desert or the Death Valley. Both seem very attractive for cyclists isn't it ? As we have no intention to drag and because it's flat, we go the the Mojave. Motivated by this choice we go 90 miles a day. In Mojave city, Virgin Galactics doesn't open their doors to errants like us. We take a nice picture of their door. For their credit, we do look like homeless people sometimes. One day on a rest area, while we were cooking, a woman came to us and gave us a dollar each !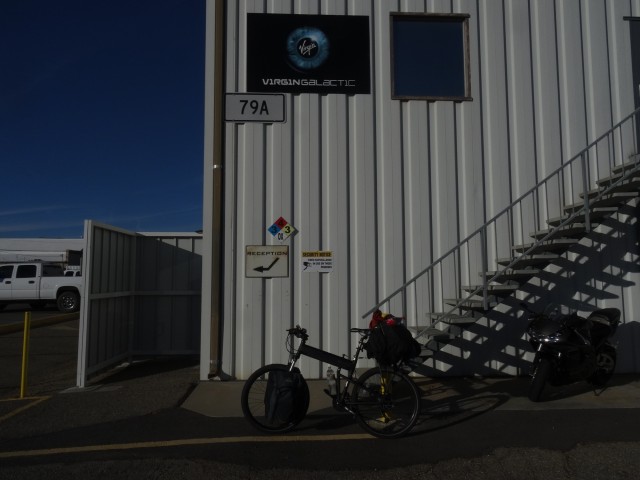 Right after the Nevada border we discover Primm, a casino city. 2 giant hotel-casinos, a McDonald's and a ridiculous tiny food shop. No one is here for the sightseing. 20 miles after, Las Vegas. Tourists everywhere. It is an impressive city, Disneyland like. Those nuts reproduced famous buildings from all over the world. Mini New York City, small paris, Venezia, Egypt, etc. That's for the outside. Inside (hotel/bar/casino/night-club/casino/strip-club) you walk among plenty of streets with fake buildings and underneath a painted fake sky. You have no clue if it's day or night outside. Venezia even have channels and gondolas.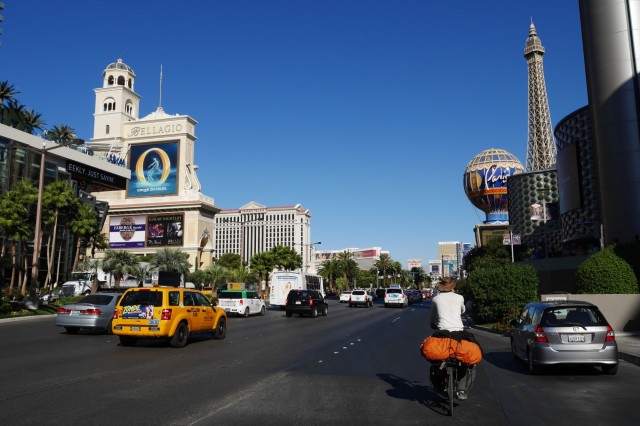 Decoration : 10/10, people : 0. A bunch of zombies on slot machines, no human interaction and no particular crazyness. Everyone stay in his bubble sipping a beer and sadly pushing coins in an ungrateful cold machine. We spent 0 cents there despite what we planned.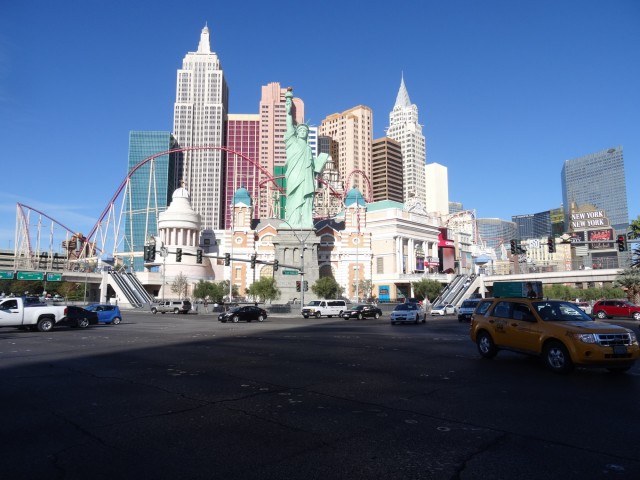 Next step : Grand Canyon. In between we have a look at the Hoover Dam. A nice beast build in 1935, and 111 deads during the construction. We read later the dam is 200m thick. Too easy.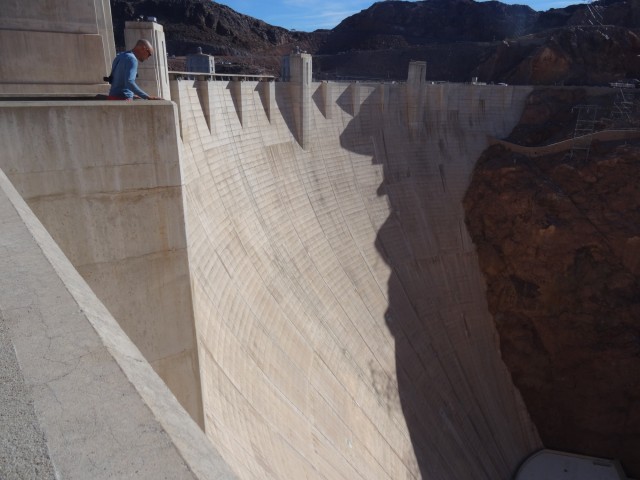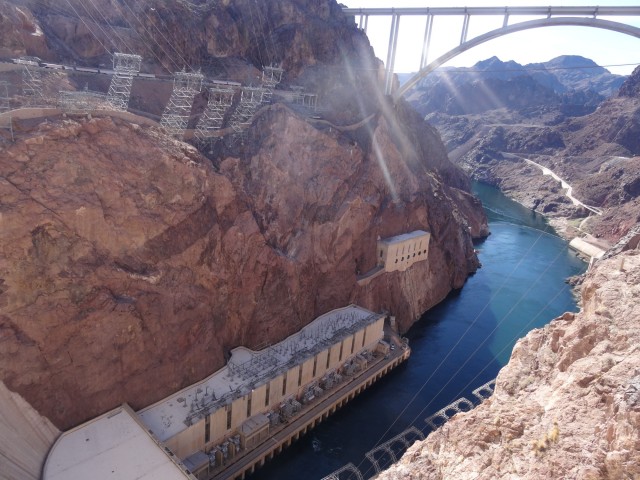 We leave Nevada with a poor idea of the local police. They kept barking on tourist around the dam for nothing and the day before while we were wild camping on an empty field a cowboy kicked us from there just before we were heading to bed, treating us like dangerous criminals : "Get in front of the car" "Hands out your pockets", etc. We have to put that in perspective though. The french cliché about americans (fats and stupids) couldn't be more disconnected from the reality. The locals we've met are way ahead of us on a professional or personal mindset. A lot take classes after work and speak different languages. You can feel the famous entrepreneur spirit in whatever topic you bring and their hospitality and positiveness are always refreshing.
Back on the road, we are in the desert and the temperature drops while we get close to the Grand Canyon. We regularly find our water bottles frozen in the morning. 13°F last night ? That's why I had cold feet. Hopefully we have good tents and sleeping bags. Once arrived to destination we discover one of the greatest place we've seen during our whole trip. It's almost as amazing as China's great wall. A few pictures can't do justice to the Grand Canyon, you have to go there and experience it.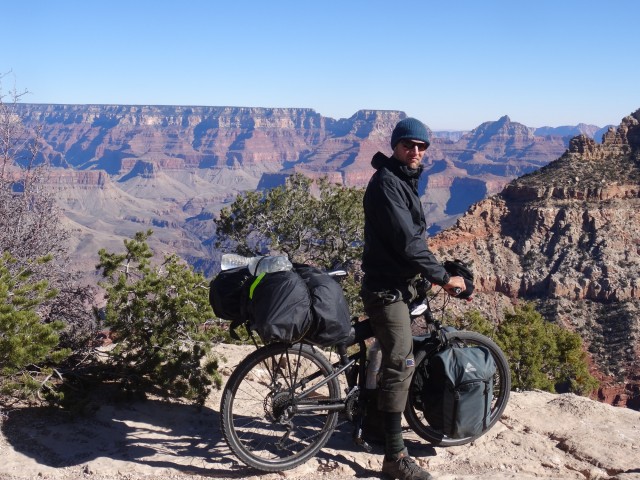 We keep going on the shortest road to Mexico : Flagstaff-Phoenix-Tucson-Nogales. We do Thanksgiving under a bridge just before Phoenix and stay in a WarmShower in Tucson. We also took this road because highways are comfortable to ride thank to the huge shoulder on the side. Arizona's police doesn't share our enthousiasm and kicked us out of one of them. Gently.
Ending bonus :
For more news, join us on our Facebook page!
---