More security and grass in Nicaragua, Costa Rica and Panama
This article has been only automatically translated by Google translate. We didn't had time to improve it until now.
After Guatemala, El Salvador and Honduras, we finally end up finding a less hostile country in Central America: Nicaragua. Less arid landscapes, loss of sight and canneraies madness mosquitoes. The food is very cheap, a meal in a local boozer costs around $ 3 or so. We cross the country in 5 days, briefly taking advantage of its great green expanses and ancient cobbled colonial towns and bustling alleys Leon and Granada in particular.
We also retentons our luck with an active volcano after Guatemala bandits Episode: Masaya Volcano. This time, the park entrance is not free, which guarantees us a minimum of security. The slopes are hard to access and the reward upon arrival is not the side that we think. The volcano is smoky as ever and we can not see the shadow of a lava blip. The other side of the hill on the other hand offers a splendid view of the surrounding plain that we have just been through. On the edge of the crater, we met a French couple that go back in the car and that America was aware that two French attack had made in Guatemala. News travels fast in Central America as they arrive in Costa Rica we have not spent a wheel!
We camp two days later on the border of Peñas Blancas to move to Costa Rica. As expected, enfumeurs are not volcanic and that street vendors are trying by all means to assign us, between two sales Marijuanol (of Clearasil to Marijuana), the output form for $ 1. As if to pay Cerfa now … we shall escape the scam with the help of a Panamanian with which we discuss in the waiting 3/4 hour queue. We can not avoid the municipal tax output territory, very classic, for obvious reasons … hum! That's what, that's an exit tax, its existence is self-evident to balance the budget.
Upon our arrival, Costa Rica offers a more tropical style. It's hot, heavy, dense vegetation. The country's wealth is not felt immediately, it will require to approach a little more of the capital, San Jose, city developed absolutely uninteresting, ugly and expensive. Expensive, like the rest of the country for that matter. The Americans have invested so much there you could almost think of it as the 51st US state. Any Spanish culture has almost disappeared and the tourist is taken for a cash cow regardless of the intended activity. You wish to visit a national park: 20 €. Light at the X volcano: 15 €. I never understood the principle of paying a fortune to visit natural places that will eventually require nothing but a little cleaning when incivility visitors left traces. FYI, the entrance to the Grand Canyon costs $ 10-12 max. That was for the bad. Fortunately, no need to look far to discover the lush Costa Rican: we had the chance to camp in the middle of the monkeys, to attend the edge of a beach, the flights of macaws, and eat in the middle of pelicans. All by chance. And Costa Ricans are adorable and have often stopped to give us food on the road.
But we had other objectives in Costa Rica develop a site to allow travelers to follow and meet after a single card. For a few weeks off in a hostel in San Jose, Alex has developed href="http://nomadstep.com" title="Nomadstep" NOMADSTEP . If you are travelers, we invite you to register and create your travel card. The service is free and available.
And the day came when he had to go back on the road. An hour before leaving, Alex into my room to tell me he was going by bus with his Chilean girlfriend of the moment. This left a bike available and I turned immediately to Karin, his Austrian state, to offer him a little journey improvised bicycle. After some tests with no luggage and we left 3 hours later to Costa Rica.
[Caption id = "attachment_2447" align = "AlignCenter" width = "640"]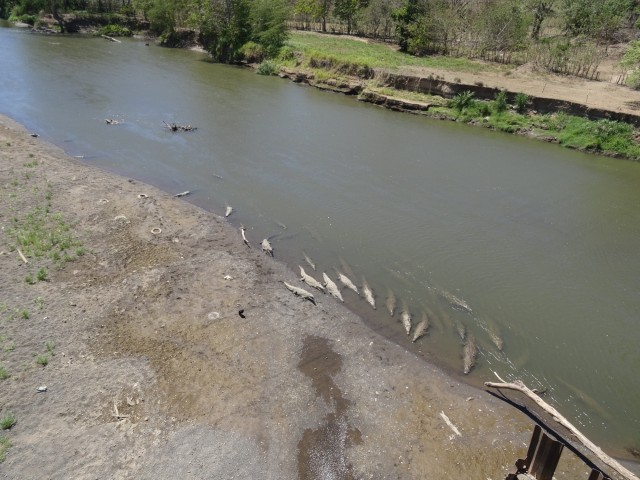 Well, I think we do not bathe today! [/ caption]
Karin has never really bike and certainly not under these conditions. Fortunately, San Jose rises to over 1000 meters and the first day is a long descent of 50 km. The following days were more difficult and I had to teach him the beautiful ninja mental Schwartzennegger, his compatriot, this calmed or muscle pain or mental fatigue. The enthusiasm with despair alternated days under scorching heat (about 38˚C daily). A week after our departure, biking, camping, unhygienic and too high a rate, it was all too much for someone who was not prepared. It will still cycled 400km, confirming that it is not necessary to be a seasoned athlete to travel by bicycle. We must first want to do, all the rest is only a matter of habit. If you think you can do it, you're right. If you think you can not, you are also right.
Our little two-wheeled journey together will lead us to San Jose at the borders of the Osa Peninsula and finally to the Panamanian border. From there, we had no choice but to hitchhike to blow the stump of my partner. And then travel to the inch with a woman is like calling a taxi on 5th Avenue, he had only to pick up and enjoy the scenery a little attractive route and work to Panama City. Panamanians have a reputation for being cold and slightly smiling. True, at first glance. But like the Russians, we also found people who had a real desire to help: our truck driver, for example, we booked a room and drove to our hotel in town, it offered me the fruit while I pedaled dripping with sweat, towards Colon to catch the ferry to Colombia. It is noteworthy, that does not happen every day. Landscapes, unlike its neighbor, left me rather insensitive but without doubt this is due to a certain weariness of Latino countries. He may be time to consider a change of air.
For the record, the local currency, the Panamanian dollar has the distinction of being pegged to the dollar at a fixed rate of 1 to 1. It is possible to pay in the two currencies at the same time, the parts being different but the same size as the tickets are all US dollars.
I want to conclude on the Osa Peninsula, Costa Rica, the Mecca of the exploits of Cizia Zykë, French adventurer whose adventures make us look like prepubescent trip. To briefly summarize the character he first became king of the night and illegal gambling den in Toronto at 23, organized a truck traffic across Africa, has mounted a gold mine in Costa Rica, therefore, with a band of semi-slaves become off-the-law, then a second in Australia, before an attempted floating brothel on the border between Suriname and Guyana. The money accumulated ending systematically between drugs, good friends, bribes and casinos before starting on another continent. In short, it is far from being a cellar and tell you how this is serious, he was invited at Pivot (because in addition to having steel baloches, Monsieur was also a writer too ugly) for an interview anthology you can find below:
In short, I could not get as close Osa without mentioning the monument and advise his books Oro, Sahara parody, Oro & co. It almost regret reading these exploits he died of a heart attack as he is 3 years old. And when a guy like that goes, there is no place to take, it's the end of an era.
ps: for the excited usual will tell us that what is described is not true to what he knows of the country because he is an expert, know that we do not publish a travel guide but impressions which was taken for a few days there. Point. Need look no further if it does not please.
href="https://www.facebook.com/deuxsingesenhiver" More news, join our Facebook page!
---