First mexican contacts
Weird border at Nogales. The US customs doesn't check our passport but ask for stupid questions and the Mexican custom office is 20km after the first town… The people make us understand that life won't be easy without speaking spanish but we have studied it for the last 3 months on our bicycles. Hopefully because at hermosillo a local newspaper wanted to interview us. Even if we can speak a little bit, they should send a journalist that could speak a little bit english…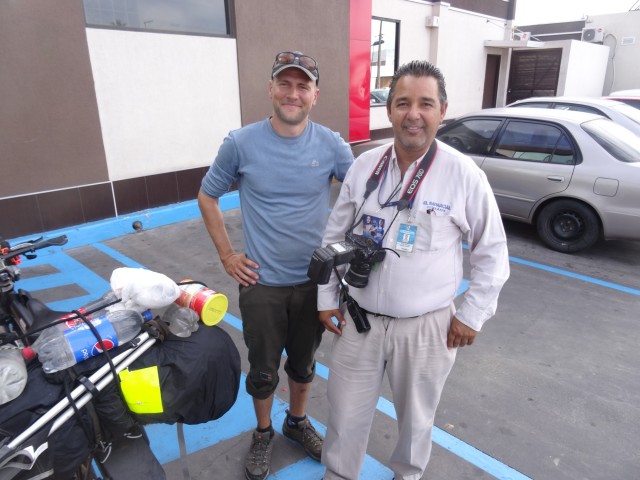 Mexico, a country whose many people in US told us it's highly dangerous : kidnapping, murders, drug mafias, etc. Unfortunately, we are naturally curious. This time we are quite happy about our homeless look we could maybe avoid some trouble that way! Who would want to rob us, seriously? We are just afraid about the bicycles that are very good looking, especially compare to the chicos ones.
Once in the country, some Mexicans still say we have to be careful while some others laugh about that. In the meantime, there are more and more military trucks full of heavily armed soldiers along the road. We feel like a tension. But when we talk with the local police, they always reassure us : as a tourist we don't risk anything. Some even want to take a picture with us.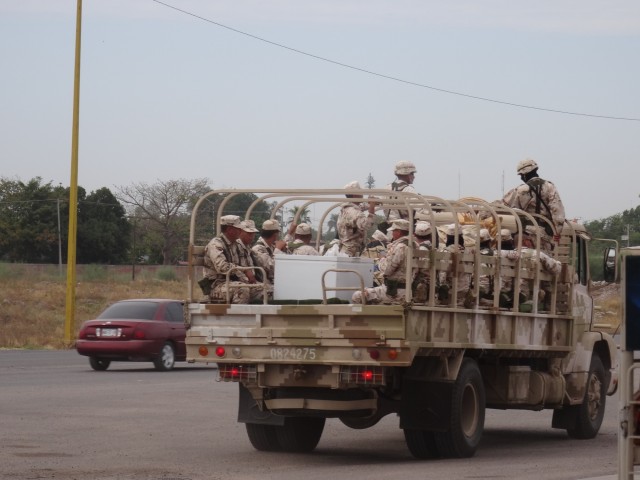 All Mexicans try to warn us about the road security, always with a good example of a dead cyclist, hit by a truck last week/month/etc. The roads from Nogales to Ciudad Obregon are in poor condition and quite narrow but we are use to it. In that case you better cycle in the middle of the road. A cyclist on the side, you can push him when you take him over, you just risk a small scratch on your car. But if he is in the middle you need to go over him and maybe break your engine cooler, you loose a lot of time… So, we impose ourselves. The highways are far better after with a large shoulder in 95% of the time.
But the landscapes are worst and worst. The US desert worth a look but the mexican one is disapointing. And wild camping is quite difficult. In New-Zealand, we used to camp in the middle of the villages but here.. we don't dare it yet. We prefer to hide our orange flashy tents for now and go over the barbwires, which is not always easy with a 60kg bicycle. Sometimes, we have the surprise to discover a giant black snake around the campground or get the visit of small scorpion and get surrounded by thousands of cactus. The nature is our friend!
We break a flat tires record these last two weeks. We have an average of 1 or 2 per day. We got more flat tires during this period than the rest of the trip. However, we both have Schwalbe Marathon Plus tires. The police have cleaned the country but not the highways.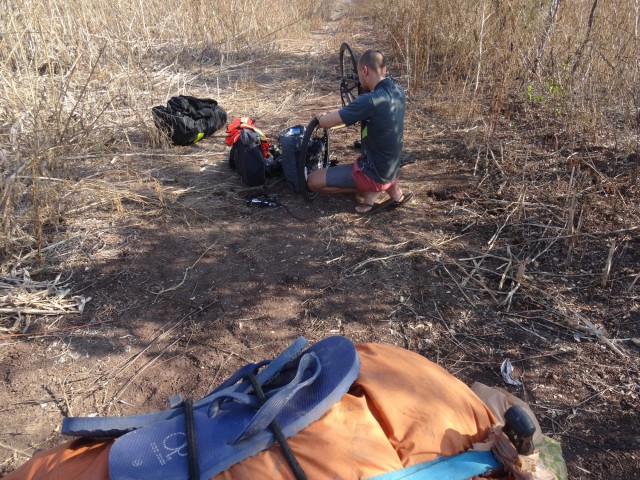 We eventually reach Mazatlan after 15 days where we'll rest for a while. We don't know yet what to think about Mexico for now. We are absolutely not afraid by the dangers everybody promised us, the militaries are the symbol of an ending war with the mafias et which has never really concerned the tourists. We more and more break the language barrier with the locals who are very friendly once they know you are not… American!
We expect a lot more fun of this country.
---