On the road to Central America
End of Mexico is slowly coming. Slowly because of a face wind we had from a long time. It's sometimes so violent that we need to stop every 50 meters to see the circulation coming behind. When the wind push on the side, we push on the other side and if a truck is coming at this moment… paf the cyclist! Hopefully, the wind turned and finally ended as a tail wind.
Our first Mayas ruins on the roads, three small pyramids. Archeological sites doesn't always deserve a detour to see it, especially by bicycle.
The kind of place we visit only if it's at less than 1 km. So, yes, we visit, all day. But not necessary the famous spots or historic places. During 80km or 100km a day, we see what is nice and what is not. We haven't seen Chichen-Itza or Mexico (It would be an occasion to come back) but we know than Mexicans throw as much as garbages in the nature than Chinese, and than Mexican music is stayed blocked in the 70's. And this is not in the Lonely Planet.
Finally, we reached the Guatemala border. Our first wild land border since the one between Indonesia and Papua 2 years ago. On the Mexican side, a Mexican stop us to warn me about all the problems I will have at the border and immediately propose me a guide for "only 300 pesos". It's so nice… We laugh and head to the real border where everything was as easy as possible. No fees, no paper, 5 minutes, a stamp and adios Amigos!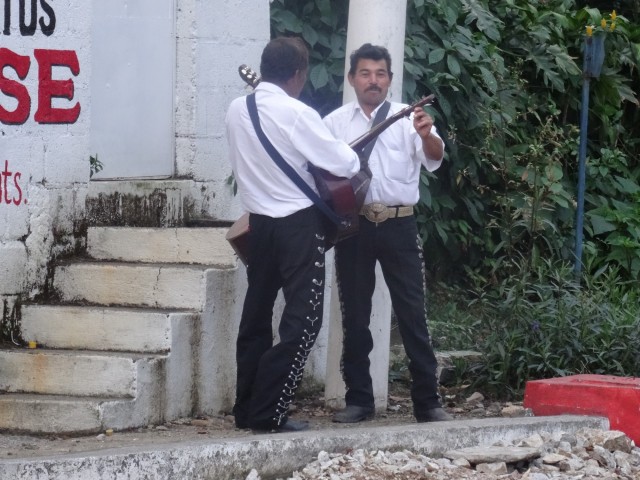 The other country now. It's already looking messy. Some cash changers are heading to us with heaps of notes clapping in their hands, while others invite us to stamp our passports between two tuc-tucs. We know since a long time that when there is a tuc-tuc, there is a trick. We are looking for the real office for 10 minutes, still surrounded by the same obstinated sellers in spite of our refusals. Once at the bureau of immigration, we are going in one by one to check the ten people around the bicycles. When they understand they won't get anything with us, our relations become more friendly. Passports stamped, bis repetita, nothing to pay.
Some of them tried a last time to sale us an other stamp. Just to be sure?
People look more smiling in Guatemala, houses are cleaner, gardens nicer, pigs cross the street in the middle of the villages and prices are more expensive. If the roads seemed cleaner too at the first look, they quickly reached the mexican standard of dirtiness. They are not more concerned with nature than their neighbors, even with the threats of expensive fines. We just see or smell less crushed dogs on the asphalt. You can imagine what we feel when we are out of breathe. The kind of details only cyclists notice…
Shotguns are growing everywhere in the country. We were used to see weapons in Mexico but Guatemala love shotguns. In petrol station a civil is always armed with it, at the supermarket, the bus stations and even at the small tiendas where they sale 3 tortillas and two sodas. Everybody is ready for fighting. Construction sites as well. I don't know if it's reassuring or not but it's now an everyday detail.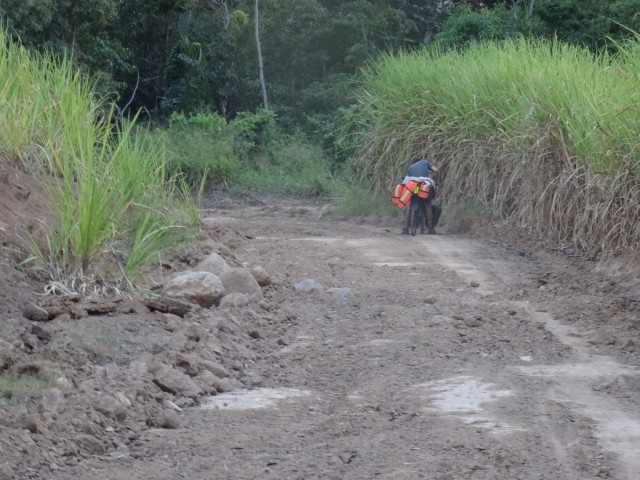 Our first destination in Guatemala is San Pedro La Laguna near the Atitlan lake where we have to spend a week in a school to improve our spanish. No road is very attractive and all very steeped. Our first attempt is a fail. After 3 km in a paved road, a local warned us of bandidas in the area and that the road is nearly impraticable. Suspicious, we asked to others locals and we can't get a clear answer. It's either possible or impossible. Sometime cars can go, sometimes not. We finally decide to take another way and to stick with the main road this time.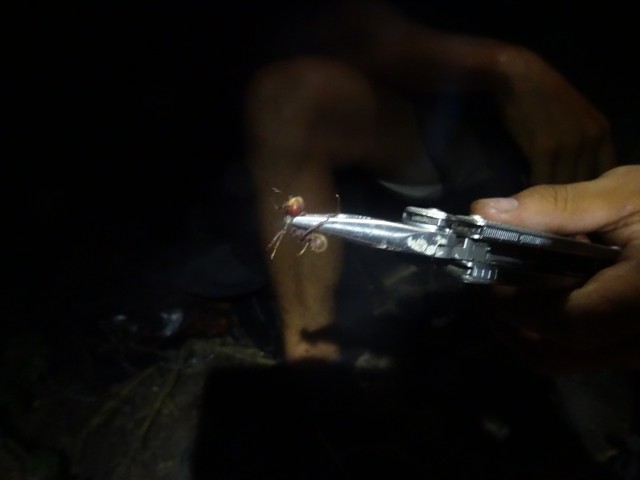 The next day, 22km of rising is waiting us until the lake. According to an old guy, there is 19km more until San Pedro (there will be more than 35…). At the next village, another old timer warn us about bandidas on the road and try… to put us on his boat. OK OK, this guy wants to freak us out and get our money, we don't trust him. We cycle 5km more and the road is now a dirt road, steeped and dusty. We have to push the bike on 3 km. At this moment, we cross a police car who tell us not staying here cause of the bandidas. What?! It's not a joke?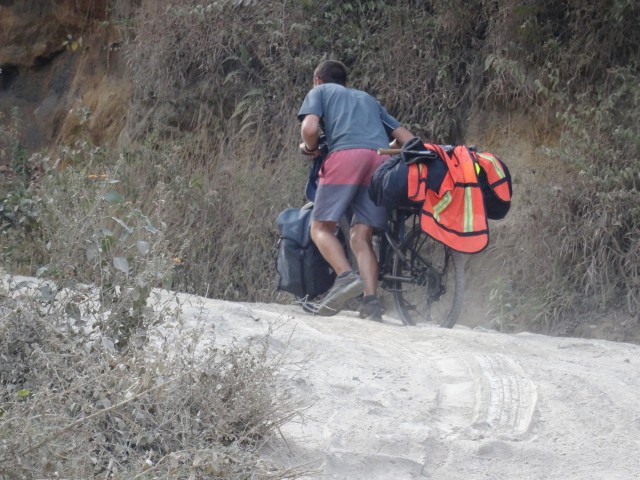 Well, we won't U-turn now. We are a bit afraid now, it's 4pm and there no one else on the road for half an hour. We remains silent, observing every tree, each field. It's useless but we are stressed. We reach 2000m high now, the asphalt is coming back and… cars! Hopefully! Other cops cross our way without a word, we are out of danger. It's time to arrive in San Pedro after 5h of bicycle at 12km/hour. Surely one of our most tiring day of cycling. Tomorrow, the courses are beginning and we now need to reach our guide in town before night. But compare to everything else, it sounds über easy!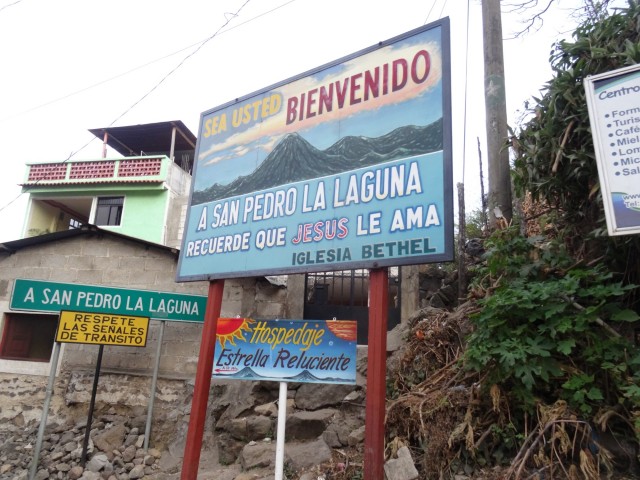 ---